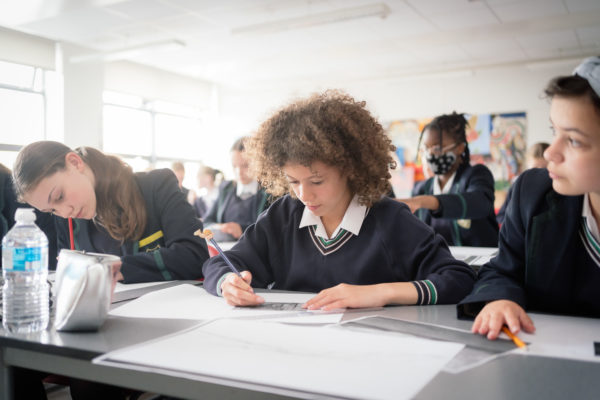 English & Media Studies
The English Department at St. Anthony's is a vibrant department with a wealth of experience and expertise, and we are dedicated to ensuring that all students have an enjoyable and enriching time in English lessons.
We have a passion for reading and we encourage all students to share our love of books. Students in all year groups will read a range of literature and non-fiction texts in English, and we will encourage students to develop their reading and interpretation skills. As well as interpreting writers' ideas, students are encouraged to develop their own ideas and share these with others. We value students' opinions, particularly about literature, and endeavour to help students develop independence in their thinking and writing.
All students will learn how to write for a range of different audiences and purposes, and we hope this will equip them with the skills needed to communicate effectively in their future careers. We encourage students to develop imaginative ideas in their creative writing and many pieces of writing have been entered for local and national competitions.
As well as developing reading and writing skills, students will also have many opportunities to use spoken language in a range of different situations. Students will study dramatic techniques, presentation skills and will be encouraged to take part in many discussions and debates.
Throughout all of their work in English, students will be encouraged to develop as individuals who have confidence in all of their reading, writing and spoken language skills.
INTENT
Our vision is to ensure that every learner is treated with equality, dignity and respect, and is encouraged to achieve their very best.
Our intent is that every learner is able to
read easily, fluently and with good understanding
develop the habit of reading widely and often, for both pleasure and information
acquire a wide vocabulary, an understanding of grammar and knowledge of linguistic conventions for reading, writing and spoken language
appreciate our rich and varied literary heritage
write clearly, accurately and coherently, adapting their language and style in and for a range of contexts, purposes and audiences
use discussion in order to learn; they should be able to elaborate and explain clearly their understanding and ideas
be competent in the arts of speaking and listening, making formal presentations, demonstrating to others and participating in debate
develop cultural capital by being able to read and understand texts from throughout literary history.