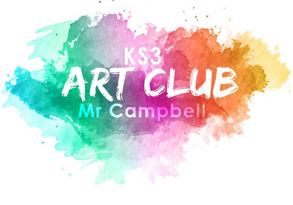 Key Stage 3 Art Club
Description of the activity
This group is designed for those students with an interest in pursuing Art outside of their classroom activities.  The time can be used to gain help and advice with classwork/homework and also to develop the students own interests in drawing and painting.  There is access to materials in the department and staff guidance and feedback.
Reasons to participate
This group is not only beneficial to the development of Art based skills and techniques, using a variety of media and process, but is also a good chance to relax and unwind whilst producing some high quality artwork.  It is of benefit to your mental health as well as meeting likeminded students who also share an interest in Art.  It will help build confidence in your practice and you will gain a wider understanding of the Art world.
Day, time and Venue
For more information, please contact: Mr Campbell – Monday Lunch time from 12:45 p.m. until 1:15 p.m. in room 2:49
Examples of Task you could work on: