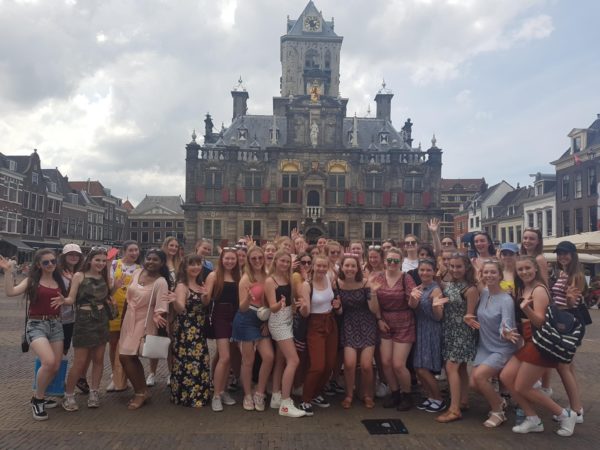 International Links
International Links
 We have extensive links with schools and institutions abroad and work with them to continue to develop our students' awareness of their responsibility as global citizens and as individuals who need to engage with those around them.  We have International links with:
China
India
France
Spain
Cambodia
Sweden
Swaziland
Activities and Projects:
CHINA
Historically teachers have visited the international school in China to teach English for 3 weeks
Academy hosted visit of Deputy Director of Education, Harbin Province along with various teachers to support sharing of practice and links within the schools.
Pupil exchanges. Our academy hosted many students for half a term (usually between January and March).  Pupils use a buddy system and share their learning experiences from both countries. Our pupils visit the international school and experience learning while also visiting places of interest and studying the wonderful culture.
INDIA
Connecting Classrooms Project funding received from British Council 2010 and 2012.
Visit of Sonal Shah, Head of KVKV School, Rajkot, for 10 days in June / July 2013.
Since these early days of establishing these links our connections have thrived. The academy regularly hosts visits from Head Teachers and teaching staff from the school and our academy's teaching staff regularly visit the school in Rajkot. We now have excellent links and work collaboratively across the curriculum, sharing our findings with our partner school and local community.
MERCY INTERNATIONAL                                     
Our academy is based on Mercy Charism
Members of the teaching and leadership staff have visited the Mercy International Centre in Baggot St., Dublin
Our School Choir has performed in MIC, Dublin
We join with our Mercy International Family annually and share "good cup of tea" in memory of the Sisters of Mercy Founder Catherine McAuley.
SOUTH KOREA   
Teaching staff have spent time gaining experience of teaching in Korea from 2013.
Our academy hosted visits by two Korean officials and Director of Programme at CCE, Newcastle, who administer the exchange for Korean Govt. in UK.
Two Korean teachers visited our academy in 2014 observing lessons and working with staff to share experiences.
SPAIN    
Due to teaching Spanish in the academy we have many excellent links with educational establishments in Spain.
Our pupils have the opportunity to share pen pal information and learn about the culture.
Our pupils have been involved in studying Spanish history and culture across many curriculum subjects and we share our findings with our current partner schools via social media.
SWEDEN  
Long standing links with University of Linnaeus
Hosting of ITE trainees annually
St. Anthony's host visits by university lecturers.
Standing invitation for staff study visit to Sweden
Staff share their different experiences of the education system.
Other
The school have a rich programme of visits abroad for study visits or for leisure pursuits.  These include:
Annual ski trip
Day visit to Auschwitz
Music / Art trip to Venice
French study visit to Paris
Spanish study visit to Barcelona
Outdoor pursuits trip to Spain or France
History visit to Berlin
R.E. Visit to Holy Land (Rome in 2014)
Current Activities: 
Artistic Investigation and Interpretation of faith with partner school in Rajkot
As part of their classroom based faith festival pupils were learning about religions in other parts of the world and were discussing & sharing knowledge and understanding about their own faiths.
Pupils worked with their Religious Studies teachers to create artistic interpretations of their own religious traditions, faiths and beliefs with the aim of celebrating different faiths.  Our partner school Panchshil in Rajkot, India also prepared similar informative posters covering many different Gods, festivals, traditions and faiths from India. These posters and craft work were exchanged. Initially the beautiful craft work was displayed at St. Anthony's as part of the Christmas Fair which is part of our school faith festival. Subsequently pupils worked with their RE teachers to learn what they could from the posters. This included quizzes, trips to see the displays and presentations to their class where pupils presented what they had learnt. The display from Panchshil was on show for the rest of the academic year for the entire school to profit from. This amazing display was also shown during all parental open evenings so that members of our local community could view and learn from it.
Our partner school Panchshil completed similar activities with pupils there completing presentations covering what they had learnt from our students' work.
Discovering China- Language and Culture
Every year we work in collaboration with Newcastle University to provide students with the opportunity to experience Chinese language (Mandarin) and culture. Weekly language classes have been taking place since October, taught by a native speaker, which all KS3 students were invited to attend. There have also been calligraphy lessons and singing sessions to broaden the students' understanding of the culture for example, to celebrate Chinese New Year, the school canteen hosted a special Chinese meal and some Y7 students took part in a tai chi masterclass. They were then given the opportunity to share this new-found skill with their class mates during morning registration time. They also shared their experiences through the school spotlight magazine and twitter. We are hoping to welcome students from our Chinese partner school back again next year so we this knowledge of culture will help to build bridges between our students and theirs. Photographs and videos have been shared with the partner school throughout the year and we are awaiting some videos back, to help us with our tai chi skills in particular!
Comparing our Cities
As part of the Geography curriculum students learn about Indian culture. This is embedded within the curriculum at both KS3 and KS4. This is a Geography led project comparing and contrasting the cities of Sunderland and Rajkot. Students looked at physical and human geography as well as personal testament from pupils about what it is like to live in their city. St. Anthony's pupils created fact files and information sheets about Sunderland following research in lessons and also relying on their own experience. Pupils also used pictures and personal photos to decorate their work. A number of pupils also wrote letters outlining their own personal experience of living in Sunderland whilst also providing factual information about the city. In their work pupils were also encouraged to ask questions about India and to address typical stereotypes e.g. is all of your food spicy? Is it always hot? Similarly, pupils in Panchshil school are working on creating their own resources to send to us to teach us about the city of Rajkot.  Once this information had been exchanged pupils created a presentation to share with their peers about what they have learnt from the information provided and completed other classroom activities based on this.
European Day of Languages event
Every September, to celebrate European Day of Languages, all departments in the school are given a country to represent and they delivered language and cultural based lessons to their classes throughout the day. An important part of our celebrations is a pupil and staff bake off demonstrating cultural or linguistic knowledge and understanding through baking. Pupils can work individually or in small groups to make something to reflect a European country of their choice. They research their country of choice to help them with their representations. Staff also participated. The entries are always overwhelming in their creativity and the results prove very difficult to judge. Photos are shared with our French and Spanish partner schools.  There are also and competitions which are coordinated through the school library. In addition, the canteen put on a special European themed menu. The whole school is able to take part in this wonderful initiative.
Life of a Spanish teenager – email and letter exchange to build understanding of how young people live in Spain.
Initially the exchange began with a simple pair-up of the bilingual class in Spain and one of our year 8 classes. Each student was given a corresponding student. They began by writing in their own language to address the questions of; where Spanish/British people typically live and what is important/interesting about your local area. On receiving the information pupils in both countries had time to read and understand the information before disseminating the information to the rest of their class. British pupils completed a 'speed dating' style activity where they had to summarise their findings to other students. Spanish students prepared presentations on what they had learnt. Following this initial contact, pupils continued exchanging information concerning the nature of free time in both countries and typical holidays.  Students are also in touch on social media and chat regularly, sharing information about their own lives. Following the success of this initial project we extended the opportunity for exchange on a more informal footing with the rest of the school. All students were offered the opportunity to pair up with a counterpart in our Spanish school and exchange information via email, social media, phone or letter. This has been very popular and we look forward to continuing our school to school collaboration, sharing information and developing these friendships in the years to come.
French pen pal exchange with College Lakanal Treignac-Bugeat
Initially this exchange began with a simple pair-up of a Y10 class with a theme class in our French partner school. Students began by writing about themselves, their families, and their family celebrations, linking directly with the Y10 SoL. This was sent around Christmas time, so cards and small gifts were also exchanged. They asked questions which their French partners responded to, also sending cards and gifts.  Before Easter, the class wrote again, this time describing their house and town (again linking with the SoL and developing on the work done by the Geography department).  Following the success of this initial project we extended the opportunity for exchange on a more informal footing with the rest of the school. All students were offered the opportunity to pair up with a counterpart in our French school and exchange information via email, social media, phone or letter. This has been very popular and we look forward to continuing our school to school collaboration, sharing information and developing these friendships in the years to come.
International Recipe Book
This year we have particularly enjoyed working on an international recipe book which brings together recipes from across our partner schools and girls within school with links to different countries. We have contacted out partner schools and asked them to send some of their favourite recipes which will be included in the book. Once this wonderful book is published, we will share it with our partner schools and members of the local community.  Until then it can be viewed in the reception of our school.
Teaching and learning strategies exchange
This is a project which has been going from strength to strength in St. Anthony's over recent years. In 2020 a group of Swedish teaching trainees came across in March to spend part of their training year gaining experience at St. Anthony's. During this time, they participated in lesson observation, pupil interviews, learning walks and interactive training sessions with a wide range of St. Anthony's staff. On return to Sweden they then disseminated their learning to fellow trainees and their tutors via individual presentations and used the skills and strategies learnt from St. Anthony's in their lessons in Sweden. During their visit to Sunderland, the Swedish trainees were visible and present in everyday school life and so this was a fantastic opportunity for the students of St. Anthony's to enhance their understanding of Swedish culture.  Also, as part of this collaboration, various members of senior leadership had the opportunity to return the visit with a learning trip to Sweden. During the visit staff gave a series of training lectures about good practice and leadership in the UK and also participated in seminars and workshops to share good practice. This was a fantastic way to exchange good practice related to a range of teaching and learning issues and both sides profited enormously.