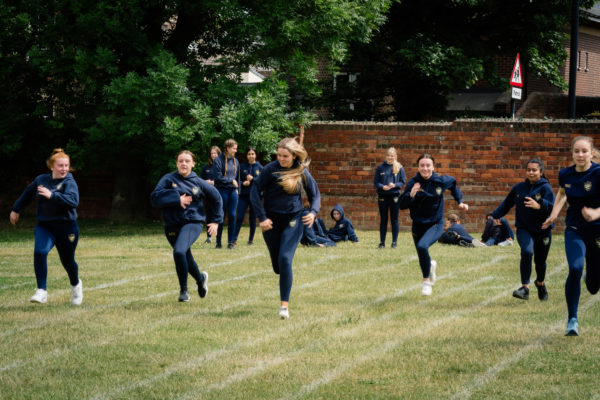 PE and Sport
Intent
'PE is not for some; it is for everyone' (Hanna Miller)
'There is no limit to what we as women can accomplish' (Michelle Obama)
'She believed she could, so she did' (R.S Grey)
Physical Education Curriculum Intent
Physical Education at St. Anthony's offers a broad and balanced curriculum to stimulate and maintain girls' interest and enjoyment in sport and physical activity. By providing high quality education we strive to develop intrinsic motivation towards Physical Education and Sport so that our girls can overcome cultural and stereotypical barriers and choose, with confidence, to get involved in exercise and physical activity through extra-curricular activities and school sport. We share opportunities to enable our pupils to continue their physical activity journey outside of school with local sports clubs so that they continue to participate throughout their lives.
The curriculum is designed to be enjoyable, accessible to all and stimulate our pupils physically, socially, emotionally and cognitively. We aim to provide equal learning experiences in netball, football, basketball, badminton, tennis, cricket, rounders, trampoline, gymnastics, dance, health-related fitness, outdoor adventurous activities and athletics. Our pupils are physically active for sustained periods of time to support them in leading healthy, active lives.
Pupils take on different roles such as; performer, coach and official to develop self-esteem, co-operative learning, leadership and respect for others. We nurture positive values and attitudes in Physical Education to provide a good foundation for life-long learning and develop leadership and teamwork qualities, enabling them to be ready for further education and the world of work.
In Physical Education pupils develop the competence and knowledge to enable them to excel in a broad range of activities. They are given opportunities to build on and embed the physical development and skills learned in previous key stages to become more competent and confident in new techniques and activities. Pupils will develop the fundamental skills necessary to develop their techniques and improve their performance. They will learn to perform specific skills and exercises with control, precision and fluency. We aim to inspire pupils to work hard to improve their performance in competitive sports and activities, in the pursuit of excellence to achieve their personal best.
Implementation
Year 7 – 11 Core PE Curriculum Map
Year 10 – 13 BTEC Tech Award in Sport Curriculum Map
Year 10 BTEC Level 1/2 Tech Award in Sport Progression Model
Year 11 BTEC Sport L1/2 tech Award in sport
Year 12 Level 3 Sport Progression Model
Year 13 Level 3 Sport Progression Model
Sport & Physical Education Extended Curricular Activities