Information for Students
Careers – what are my options?
There are so many options available to you when you leave school. You could join the sixth form, begin an apprenticeship, commence a T Level, develop your confidence through a traineeship, apply for full-time university, consider a gap year or even move into volunteering!  There are lots of different options available to you at all stages of your studies and career. Sometimes this can seem daunting, so it is a good idea to discuss your options with a Careers Adviser. Being open-minded about the range of opportunities and equipping yourself with knowledge and information is the best way to build your confidence, and ultimately to support you to make the best decision for you.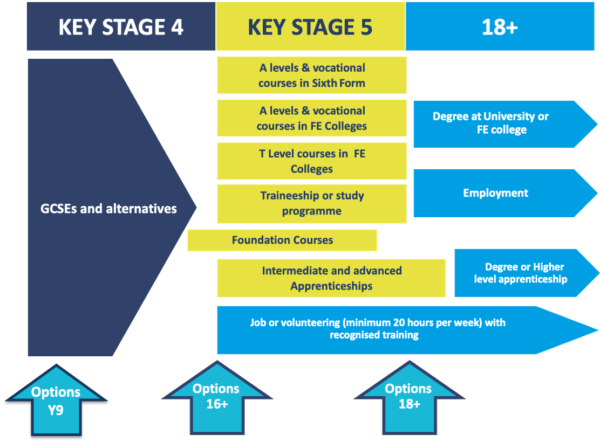 Careers Websites
Follow the links below to access some helpful websites:
Apprenticeships
Apprenticeships are an alternative route to A Levels, college Courses and even university. They offer a wage, holiday pay, benefits, cover study fees and offer practical experience alongside the theory of study.
With over 600 different apprenticeships covering everything from accountancy to zoo-keeping, there is an apprenticeship out there for everyone.
Whatever the role, 80% of the paid time will be on-the-job with the employer and at least 20% of the apprentice's paid time will be off-the-job, undertaking training or learning with the training provider.
100% of the time is paid, 100% of the fees covered and employers will range from blue chip companies to SMEs and independents.
Traineeships
Traineeships are a brilliant way to gain experience and confidence, helping you to take the next step into an apprenticeship, work or study. Offered throughout England, trainees are supported by training providers working with local employers through fun and engaging programmes that will help you reach your future goals.
Some key facts:
They can last from 6 weeks up to 1 year (though most traineeships last for less than 6 months)
They are for individuals aged 16 – 24 yr. olds (or 25 yr. olds with an Education, Health and Care plan)
They contain a work placement of at least 70 hours (minimum)They are supported by a training provider who will provide qualifications in maths, English and digital skills.
T Levels
T Levels are a 2-year qualification that you can do as an alternative to A levels, other post-16 courses or an apprenticeship.
They bring classroom learning and an extended industry placement together on a course designed with businesses and employers.
Higher Education
Higher education education after you leave school. It takes places at universities and Further Education colleges and normally includes undergraduate and postgraduate study. Higher education gives you the chance to study a subject you are interested in and can boost your career prospects and earning potential.
Your choice of career might be a key reason in deciding whether to go into higher education and what course to take. Some careers, including medicine, dentistry, chartered engineering and architecture require you to have a degree. Other professions, like law or speech therapy, require you to have an additional postgraduate qualification on top of your degree before you can practice.
You may just want to study in a subject that really interests you or to broaden your knowledge in a certain area. However, studying a higher education qualification can also help you to develop skills and qualities that employers value, such as problem-solving and communication skills. It can be helpful to have a career path in mind before choosing a course to study.
Careers in STEM
A STEM job is any job in the fields of science, technology, engineering or maths. With a foundation in these subjects, a STEM career allows you to solve problems, develop new ideas and conduct research.
Employability Skills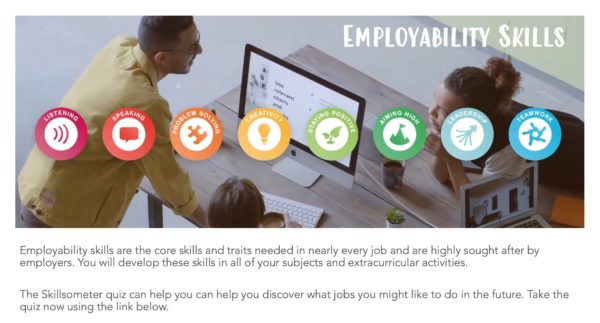 Labour Market Information
Understanding Labour Market Information (LMI) is becoming more and more important as the world changes, so that all students can be aware of where different job roles are needed around the country and what types of jobs may need more people in the future.  Below is information on what labour market information actually means.
LMI means finding out the following things about different job roles or career pathways:
How much do people get paid in this job or industry?
What qualifications do I need to do this job?
What skills or qualities do I need to do this job?
Where can this job or industry take me in the future?
Where are these jobs located around the country?
How many of these jobs will there be in the future?
Cre8tive Careers   Understanding Labour Market Information and Employment Trends