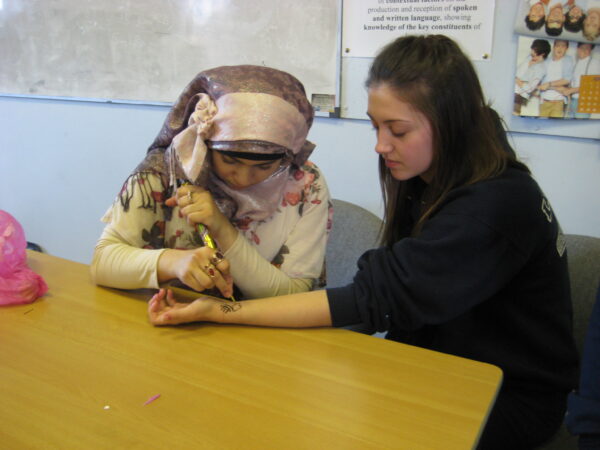 Religious Studies
Religious Education is at the core of the curriculum in St Anthony's.  We are committed to supporting students at whatever stage they might be on their faith journey.  We strive to help students achieve their full potential as human beings.
We believe it is essential that all students should have an appreciation of the religious and spiritual dimension of life. We aim to encourage awareness and appreciation of the pupils' own worth and that of others and also to respect the rights of other people who have beliefs which are different to their own. As a Catholic community it is our duty to deepen the knowledge and understanding of Catholic and other religious traditions but also to enable young people to explore their own story, experiences, personal beliefs and that of others whatever their faith background.
RE is also an academic subject and pupils are expected to develop skills of research, thinking, reasoning, communication and co-operation. We therefore strive to help to develop the skills for GCSE or A Level Religious Studies.
We offer a huge range of activities outside of the classroom which we hope will  inspire and increase enjoyment in the subject, e.g. pilgrimages, study days at universities, retreats, guest speakers, visits to places of worship, visiting theatre groups.
All students in St Anthony's study GCSE Religious Studies. The course content aims to develop knowledge, skills and understanding of religion. We explore the significance and impact of beliefs, teachings, sources, practices and ways of life.  RE lessons also give students the opportunities to express personal responses to the big questions in life, such as "Who am I?" "What happens when I die?"  "What is the meaning of life?"
"I have come" Christ said "that you may have life and have it in all its abundance."
Religious Education – Key Stage 3
All students in Key Stage 3 will study the following areas in Religious Education:
Year 7
– What does it mean to belong?
– What do Christians Believe?
– What is a Sacrament?
– What do Jews believe?
– How did Christianity arrive in England?
Year 8
– Are you there God?
– What do Muslims believe?
– Who is Jesus?
– What is Confirmation?
– How do Christians choose right from wrong?
Year 9
Our students will begin their GCSE course with the AQA examination board:
– Unit 5 St Mark's Gospel (405005)
– Unit 4 Roman Catholicism Ethics (405004)
See below for further information.
Religious Education – Key Stage 4
Currently all students in Years 9, 10 and 11 are studying St. Mark's Gospel with the AQA exam board. Units covered are:
– Background to the Gospel
– Jesus's ministry
– The Person of Jesus
– Jesus's relationship with others
– Discipleship
– Jesus's suffering, death and resurrection.
In addition to Mark's Gospel, students will study the AQA Roman Catholicism Ethics course. This unit of work explores the following topics:
– Christian values
– Marriage
– Vocation
– Reconciliation
– Christian healing and life after death
– Global issues including war and peace, and poverty.
Key Stage 4 Religious Education enhances students' spiritual and academic progress in line with the Gospel and the Church's moral teaching.  Once students reach the end of Year 11 they will be examined on both courses and their grades will be combined to give an overall GCSE grade.
Religious Education – Key Stage 5
General RE in the Sixth Form
All students in Years 12 and 13 study General RE. In Year 12 students consider a variety of human rights issues affecting our global society such as trafficking, slavery, poverty and discrimination.  They also explore religious and ethical issues in the media and consider the importance of Catholic Social Teaching upon the lives of people today.
As the pupils approach life outside St Anthony's we aim to deepen their knowledge about the major world religions. We look at the contemporary issues that arise within these religions and how they impact upon believers today.
AS/A2 Level Christian Theology
Students who opt to study at AS/A2 level follow the AQA Religious Studies specification, which involves two units at AS and two units at A2.  At AS Level students will complete a course in Religion and Ethics (Abortion, Euthanasia, Utilitarianism, Situation Ethics, Christian Ethics) and An Introduction to the Old Testament.  At A2 Level, students will explore questions surrounding 'Life, Death and Beyond', and also complete an in depth study of St John's Gospel.