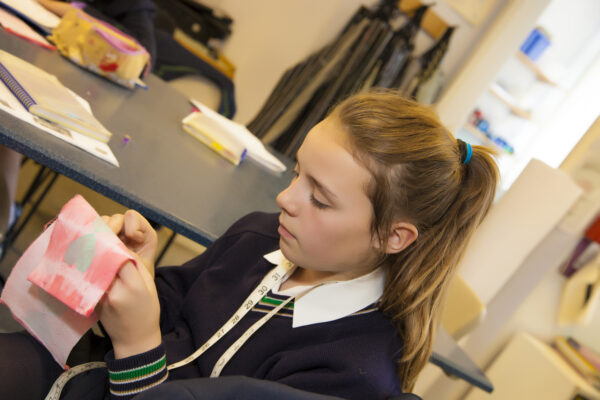 Textiles
Key Stage 3 pupils are introduced to the subject by learning about safety in the textiles area and how to use tools and equipment including the sewing machine, steam iron and fabric shears. Skills and techniques vital to successful textile production are then introduced, including the use of different materials, design processes, decoration techniques and aesthetics.
Over the course of Key Stage 3, students will design and make a number of items using textiles, including a universal mobile phone cover, storage solutions and make up bag.
Key Stage 4 students follow the AQA Textiles course, and further develop their skills acquired in Key Stage 3 to a higher level. The course begins by encouraging research and analytical techniques, comparing and contrasting materials solutions to storage problems, develop solutions and learn techniques for constructing and decorating their own product. The source then leads us in to exploring mass manufacturing techniques, computer aided design and the importance of fair trade.
A big element of the assessment for this qualification is a coursework project, and students spend time selecting from a design brief, researching and developing ideas, producing a range of options for evaluation and finally design and manufacture of the final product. The coursework element allows pupils to use and strengthen skills already developed earlier in their school careers.