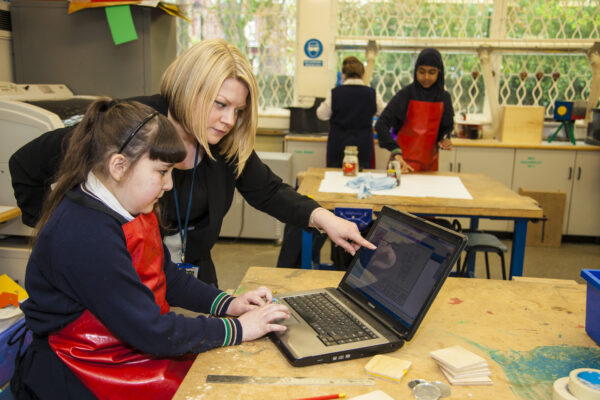 Product Design
Key Stage 3 Product Design is taught in Year 7, 8 and 9 as part of a rotation with Computer Science. Pupils will study Product Design for two terms giving them the opportunity to experience four exciting Design and Manufacture projects. Within Product Design, pupils will experience working in a number of specialist areas including Materials Technology, Graphics, CAD/CAM and Electronics. All of the projects offered at KS3 are intended to encourage learners to become inquisitive about design, gain confidence working individually and in teams/groups and develop their initiative by becoming innovative, creative learners.
In Key Stage 4 pupils follow the AQA Product Design specification. The course requires them to research and use as inspiration a range of design movements from the 20th century, learn how to design and manufacture items in a range of materials, incorporate ergonomics and anthropometrics to inform the specifics of design.
A host of skills are further developed in Key Stage 4, and students will use the design and evaluation processes to take their inspiration through from concept through to manufacture and evaluation. Technology teaches and develops so many different skill areas that it lends itself well to careers as diverse as manufacturing, interior design and marketing.
Key Stage 5 students follow the AQA Product Design specification, and at AS level Students should develop an understanding of a broad range of materials, with emphasis on the life cycle of products, manufacture and final disposal. This specification also considers the broader issues for the designer including the environmental sustainability of products and consumer safety.
Topics include:
Developing an understanding of the physical and mechanical properties in a broad range of materials and components.
The broader issues for the designer including the environmental sustainability of products and their manufacture methods in which materials and components can be manipulated to manufacture products
Health and safety issues relevant to working with materials. Computer aided design (CAD) and computer aided manufacture (CAM)
Ergonomics and anthropometrics, inclusive design, and consumer safety
The life cycle of products including manufacture, use and functional aspects and final disposal.
At A2, the specification offers Students the opportunity to further develop the knowledge and practical skills from AS. Candidates will continue to develop a body of coursework alongside an understanding of the processes and procedures of commercial production and manufacture.
Topics include:
Classifying materials and identifying, testing and comparing their application to product manufacture
The implications of Health and Safety as an element of design activity
Examination of alternative designs and redesigning existing products
Use of natural resources, materials utilisation, conservation, waste disposal/management, pollution, recycling
Appreciation and understanding of the use of CAM for industrial production
Moral, economic, social and environmental responsibilities of the designer
Planning production procedures and methods.