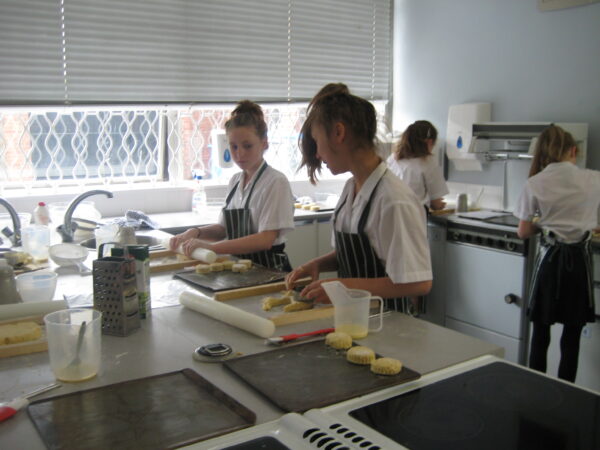 Food
INTENT
Design and Technology prepares pupils to participate in rapidly changing technologies. They learn to think and intervene creatively to improve quality of life. The subject calls for pupils to become autonomous and creative problem solvers, to learn key skills and  become effect team members. This in turn helps prepare them for their future careers. They look for needs, wants and opportunities and respond to them by developing a range of ideas and making products and systems using a variety of materials and ingredients. They combine practical skills with an understanding of aesthetics, social and environmental issues, taking into account function and industrial practice.
As they do so, they reflect on and evaluate present and past design and technology, its uses and effects on society. Through design and technology, all pupils can become discriminating and informed users of products, and become innovators in all aspects of life.
In Technology we aim to
develop in our students the creative and technical skills alongside the practical expertise needed to perform in a world full of ever changing technology
develop in our students the ability to a wide range of knowledge and the skills to apply this knowledge to real world situations
develop in our students the ability to grow an understanding of processes and skills needed to design and make high-quality prototypes and products for a wide range of users
develop in our students the ability to evaluate and test their ideas and products and the work of others
develop in our students the ability to understand and apply the principles of nutrition and learn how to cook.
highlight the importance of STEM and STEM careers so students can make informed decisions and gain access to the next stage of work life after education.
Key Stage 3 Food is taught in Year 7, 8 and 9 as part of the provision within the Design and Technology Department.  All of the Food work offered at KS3 is intended to encourage learners to become inquisitive about food and nutrition, gain confidence working individually and in teams/groups and develop their initiative by becoming innovative, creative learners.
In Key Stage 4 pupils follow a GCSE qualification, and the course requires students to have creative approaches to all areas of food preparation and presentation.  A host of skills are further developed in Key Stage 4, and students will use the design, creation and evaluation processes to take their inspiration through from concept through to production and evaluation.
Implementation
Y7 Cooking & Nutrition implementation
Y8 Cooking & Nutrition implementation
Y9 Cooking & Nutrition implementation
Y10 Food Preparation Implementation
Y11 Food Preparation Implementation