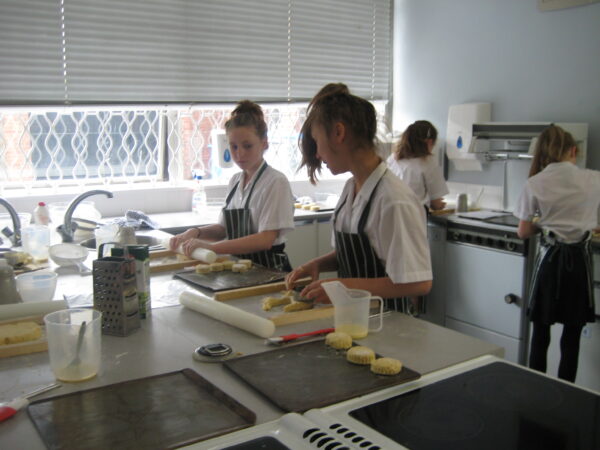 Food
INTENT
Food Preparation & Nutrition prepares pupils to understand the role of food throughout life from the importance of nutrition to the role of consumers and ethical food choices. It develops self-confidence through independent and team practical opportunities. The subject calls for pupils to learn a wide range of key life skills and become effect team members. This in turn helps prepare them for their future careers.
In Food Preparation & Nutrition we aim to
Develop in our students the ability to understand and apply the principles of nutrition in their own food choices.
Develop a healthy understating of the importance of good diet and healthy eating choices.
Develop independent practical skills, which they can use to help them prepare healthy, nutritious food for themselves and their families throughout life.
Help pupils to navigate the complex world of food information, labelling and health advice.
Develop an understanding of ethical food issues and help them to understand their role as consumers.
Highlight the importance of STEM and STEM careers so students can make informed decisions and gain access to the next stage of work life after education.
Key Stage 3 Food is taught throughout the whole school year during years 7, 8 and 9 giving pupils the opportunity to experience a wide range of practical opportunities which take them through a range of skills including use of the hob, oven and grill, knife skills, time management, recognising when different food is 'ready', hygienic working practices, accurate weighing & measuring, and the ability to independently follow a method; all through the production of everything from spaghetti Bolognese to homemade pasta and ravioli.
All of the Food work offered at KS3 is intended to encourage learners to become inquisitive about food and nutrition, gain confidence working individually and in teams/groups and develop their initiative by becoming independent, creative learners.
In Key Stage 4 pupils follow the AQA Food Preparation & Nutrition specification. The course requires pupils to develop knowledge & understanding of nutrition throughout life whilst also developing a wide repertoire of skills from choux pastry to roux sauce. Students will then use their knowledge and skills to produce excellent products of their own choice independently to suit a particular brief given by the exam board. Choices are typically around a particular country, a life stage or a specific food choice.
Food Preparation & Nutrition teaches and develops so many different skill areas that it lends itself well to careers as diverse as environmental health, nutrition and marketing.
Topics include:
Food, Nutrition & Health – understanding the link between diet and good health, and diet and disease.
Food Science – exploring the properties of ingredients used in cooking, allowing students to understand through practical opportunities how and why certain ingredients work, and why others do not.
Food Safety – an interesting look at how simple hygiene practices in the kitchen are also used on a wider scale in the food & catering industries.
Food Choice – a tour around the cultural and religious reasons behind food choices. Also looking at the ever-emerging world of food allergies and intolerances.
Food Provenance – a very topical topic! Where does our food come from? What are the environmental impacts of food production, food transportation, food packaging? How can we eat more ethically?
IMPLEMENTATION]
Y7 Cooking Nutrition implementation
Y8 Cooking Nutrition implementation
Y9 Cooking Nutrition implementation
Y10 Food Preparation Implementation
Y11 Food Preparation Implementation
Impact
We know from all those who internally, and externally, review the work of our school that our pupils are cheerful, creative, conscientious and confident. Employers regularly tell us that our students are professional and act with honesty and integrity. Our Design & Technology and Computer Science staff and students in our care very much feel part of our Mercy community.
The D&T and Computer Science curriculum at St Anthony's allows all students to develop their God given talents and gain the technical knowledge and skills needed to become confident individuals who are able to understand and evaluate technical information in order to make informed decisions that impact on their own lives and the lives of those around them. The D&T and Computer Science curriculum also enables students to develop an increasing awareness of the moral and ethical dilemmas technical discovery can bring and equips them with the knowledge and values needed to take part in the debates surrounding both design and technological issues, allowing them to become active citizens of the world. Regular oral and written feedback is provided to ensure all students are aware of their position on the learning journey, their strengths and targets, which they consider when taking their next steps.
We believe that the D&T and Computer Science curriculum provision at St. Anthony's Girls' Catholic Academy leads to a mastery in key content of knowledge, skills and understanding. We believe pupils are also able to develop their cultural knowledge and understanding, allowing them a heightened cultural awareness of the globalised world in which they live. Through the D&T and Computer Science course provision, pupils are able to develop their confidence in designing and manufacturing as well as gaining skills in analysis and evaluation.
Staff in the D&T and Computer Science department support subject specific literacy and numeracy for all our pupils to help them succeed in their studies and they aim to holistically develop the gifts and talents of each individual within a caring, compassionate, charitable and challenging Christian environment.
Our impactful D&T and Computer Science curriculum develops students with the necessary skills, knowledge and understanding to have a positive impact within family, friendship groups, school/college, university, the workplace and the wider community. Our wide-ranging and broad-based curriculum offer, and varied extended curricular opportunities within D&T, provide an opportunity for everyone.
We know that our students are reliable, responsible, resilient and radical individuals who are ready to use their talents positively wherever life may take them. Generations of students have chosen St. Anthony's over the decades and centuries. We are extremely proud of our alumni, many of whom are regular contributors to our school community as it continues to grow and develop. Many families have fourth or fifth generation connections to our school and many staff have given decades of service, such is the impact of being part of this school community.
Everyone in our community is aware of what it means to be an Antonian: to pursue excellence, to build community, to show concern for those who may be disadvantaged and to particularly support the education of women and girls. We have definitely had an impact within this "city by the sea", and well beyond it, especially working so closely with key international partner schools, since we were founded in 1904. We are confident that our distinctive ethos will continue to have a big impact as it is carried forward by future generations of Antonians.