St. Anthony's European Extravaganza
St. Anthony's Girls' Catholic Academy hosted a European extravaganza that was truly sensational!  The whole Academy became distinctly continental to celebrate European Language's Day.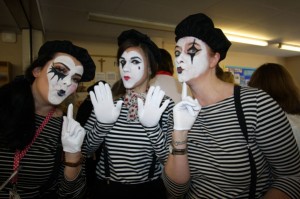 Costumes were not confined to the Languages Department though, as the Art department donned Russian dress, Maths staff starred as Abba, Technology performed as French mime artists, RE staff were in full Viking dress and there was a Flamenco dress spotted on Mrs Laydon. Everyone agreed that the whole St. Anthony's community had a fabulous time as they celebrated being continental, and they enjoyed raising awareness of other European languages and cultures.