Sailing on board HMS Ocean
Samantha Leonard (Year 10) was given the opportunity and privilege of sailing on board HMS Ocean with other Sea Cadets from the North East Brigades from Scotland to Sunderland during Monday 27th April to Friday 1st May. She has provided us with a summary of her experience:
On arrival we were given a tour of the ship and shown to our bunks, which were small and cramped, I lost count of how many times I banged my head on the bunk above. The days were long, up at 6am and ready for 6.30 am breakfast and lights out at 11pm.

During the week we got a chance to experience various aspects of life in the Royal Navy including Engineering, Logistics, Medical and Warfare.  Some of my many highlights were I was given the opportunity steer HMS Ocean, shoot various weapons, given a tour of the medical block (which is currently the biggest medical facility in the Naval Fleet) and look around the Helicopters (Merlin and Sea King) on-board.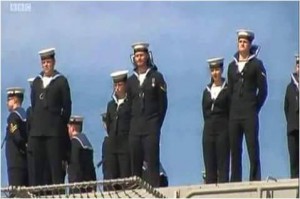 On arrival back in Sunderland we were given the privilege of standing on the flight deck with the whole ships company in our dress uniforms whilst the ship docked.  It was a very exciting and proud moment.  The entire week was an amazing opportunity enabling me to experience what life in the Royal Navy would be like.  I had a great time and would love to do it again if given the opportunity.