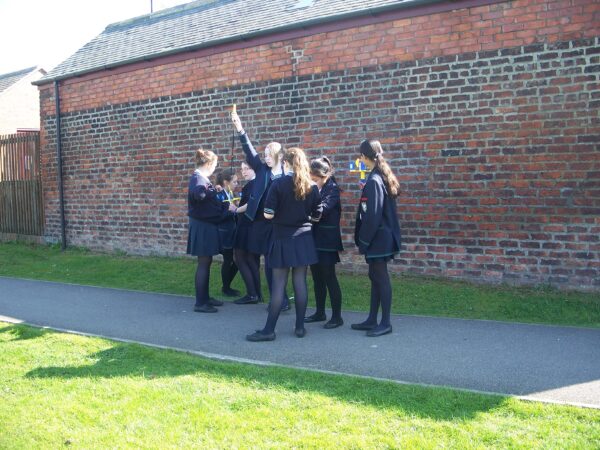 Geography
Geography
"Geography explains the past, illuminates the present and prepares us for the future. What could be more important than that?" – Michael Palin 2009
Geography is the study of the Earth's landscapes, people, places and environments. At St. Anthony's we study a wide range of topics which help students to understand the amazing place we live in! We also develop a variety of geographical skills, such as map work, photo analysis, enquiry, group work, presentation skills and critical thinking – all essential for preparing students for life beyond school!
Key Stage 3 Geography
Autumn – Winter

Spring

Summer

Year 7

Introduction to geography

Fantastic Places

Our Island Home

Africa

The World of Water

Rivers Project Work (River Tees)

Weather and Climate Investigation-microclimate

Tourism and Glaciation in the Lake District
A,C,G
A,B,C,E,F,G
A,B,C,E
A,B,C,F,E

Year 8

World map and the continents

Population/Migration

Population/Migration – Middle East
Globalisation, India Global Fashion.

Coasts

Plastic in the oceans

Fieldwork – Coasts

E,A,B,C,D,G
A,B,C,E
A,B,C,E,F,G
A,E,F
Key Concepts
A. Place
B. Space
C. Scale
D. Interdependence
E. Physical & Human processes
F. Environmental Interaction and Sustainable Development
G. Cultural understanding & diversity
At Key Stage 3 we study a range of exciting topics covering Physical, Human and Environmental Geography. Using a wide range of teaching and learning activities, we study topics at a variety of scales, from our local area to worldwide issues. We also aim to develop important geographical skills such as map reading, drawing and interpreting graphs, critical thinking and debate.
First year of GCSE – Year 9
Autumn – Winter

Spring

Summer

Year 9

The living world:

Ecosystems introduction

Tropical Rainforests – environmental characteristics

Deforestation and Management

Hot deserts, development and desertification

·What are natural hazards?

The challenge of natural hazards

Tectonic Hazards

Weather hazards

Climate Change

The Development Gap – Nigeria
Key Stage 4
Autumn – Winter

Spring

Summer

Year 10

Challenges in the human environment

Urban Issues and Challenges

Physical landscapes in the UK

Coastal landscapes in the UK

River landscapes in the UK

Mock exam

Challenge of resource management (Water)
Autumn – Winter
Spring
Summer

Year 11

Challenge of resource management (Water) continued

Fieldwork Skills – Whitby

Changing economic world

Development Gap

NEE

UK economy

Skills and Pre-release from March

Revision

Skills afternoon
GCSE Learning journey HCA 2021
Key Stage 4 Geography
At Key Stage 4 we study the AQA A exam specification. This course consists of three examinations, taken at the end of Year 11.  A fieldwork Investigation is carried out at Whitby in the autumn term of Year 11 and involves collecting, recording and analysing primary data.  This is in preparation for the paper 3 exam, which is a pre-release and geographical skills exam.
Key Stage 5 Geography
A Level Geography offers a natural progression from GCSE. A level geographers study both human and physical landscapes in a range of countries and at a variety of scales, identifying what they are like and how they are changing. Geography is a flexible subject, making it an excellent combination with many other subjects. It is particularly appealing to those students who want to maintain strong links with the 'real world' outside the classroom. Geography can be classed as a science, a social science or an arts subject and therefore, A level geographers follow many varied careers and courses after school.
All Key Stage 5 students will study core human and physical geography. In each area of study students will consider their own values and attitudes to the issues being studied and support their learning through the study of specific case studies. Students will also develop a variety of geographical skills, which will broaden and deepen existing knowledge.
Skills Developed
Students are required to develop and demonstrate a range of geographical skills, including cartographic, graphical, numerical and statistical skills, throughout their study of the course.