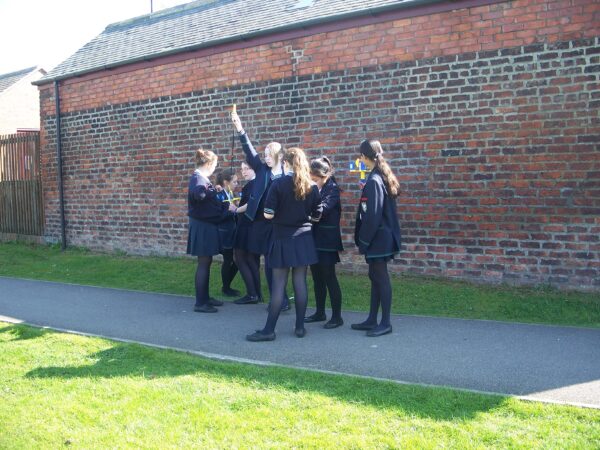 Geography
INTENT
"Geography explains the past, illuminates the present and prepares us for the future. What could be more important than that?" – Michael Palin 2009
Geography is the study of the Earth's landscapes, people, places and environments. At St. Anthony's we study a wide range of topics which help students to understand the amazing place we live in! We also develop a variety of geographical skills, such as map work, photo analysis, enquiry, group work, presentation skills and critical thinking – all essential for preparing students for life beyond school!
We aim to ensure that all pupils:
Are successful individuals who are challenged to understand the local, national and global patterns of human, physical and environmental geography.
Make good personalised progress through regular assessment against agreed criteria that reflect the knowledge, understanding and key skills required at each stage.
Become confident individuals through challenging learning conditions, opportunities to learn in different ways through both individual and team activities.
Engage positively with their environment to ensure a sustainable attitude to life by ensuring that sustainable development and stewardship of the world's resources is central to all topics taught.
Are enabled to value differences and develop tolerant attitudes as active citizens through the study of topical issues of inequalities at different scales and in places at different levels of development.
IMPLEMENTATION
Key Stage 3 Geography
Geography Year-7-Implementation
Geography Year-8-Implementation
Geography Year-9-Implementation
Geography Curriculum Map St Anthony's KS3-4
Autumn – Winter

Spring

Summer

Year 7

Introduction to geography

Fantastic Places

Our Island Home

Africa

The World of Water

Rivers Project Work (River Tees)

Weather and Climate Investigation-microclimate

Tourism and Glaciation in the Lake District
A,C,G
A,B,C,E,F,G
A,B,C,E
A,B,C,F,E

Year 8

World map and the continents

Population/Migration

Population/Migration – Middle East
Globalisation, India Global Fashion.

Coasts

Plastic in the oceans

Fieldwork – Coasts

E,A,B,C,D,G
A,B,C,E
A,B,C,E,F,G
A,E,F
Key Concepts
A. Place
B. Space
C. Scale
D. Interdependence
E. Physical & Human processes
F. Environmental Interaction and Sustainable Development
G. Cultural understanding & diversity
At Key Stage 3 we study a range of exciting topics covering Physical, Human and Environmental Geography. Using a wide range of teaching and learning activities, we study topics at a variety of scales, from our local area to worldwide issues. We also aim to develop important geographical skills such as map reading, drawing and interpreting graphs, critical thinking and debate.
First year of GCSE – Year 9
Autumn – Winter

Spring

Summer

Year 9

The living world:

Ecosystems introduction

Tropical Rainforests – environmental characteristics

Deforestation and Management

Hot deserts, development and desertification

·What are natural hazards?

The challenge of natural hazards

Tectonic Hazards

Weather hazards

Climate Change

The Development Gap – Nigeria
Key Stage 4
Autumn – Winter

Spring

Summer

Year 10

Challenges in the human environment

Urban Issues and Challenges

Physical landscapes in the UK

Coastal landscapes in the UK

River landscapes in the UK

Mock exam

Challenge of resource management (Water)
Autumn – Winter
Spring
Summer

Year 11

Challenge of resource management (Water) continued

Fieldwork Skills – Whitby

Changing economic world

Development Gap

NEE

UK economy

Skills and Pre-release from March

Revision

Skills afternoon
GCSE Learning journey HCA 2021
Key Stage 4 Geography
Geography Updated Year-10-Implementation
Geography Updated Year-11-Implementation
Geography Curriculum Map St Anthony's KS3-4)
At Key Stage 4 we study the AQA A exam specification. This course consists of three examinations, taken at the end of Year 11.  A fieldwork Investigation is carried out at Whitby in the autumn term of Year 11 and involves collecting, recording and analysing primary data.  This is in preparation for the paper 3 exam, which is a pre-release and geographical skills exam.
Key Stage 5 Geography
A Level Geography offers a natural progression from GCSE. A level geographers study both human and physical landscapes in a range of countries and at a variety of scales, identifying what they are like and how they are changing. Geography is a flexible subject, making it an excellent combination with many other subjects. It is particularly appealing to those students who want to maintain strong links with the 'real world' outside the classroom. Geography can be classed as a science, a social science or an arts subject and therefore, A level geographers follow many varied careers and courses after school.
All Key Stage 5 students will study core human and physical geography. In each area of study students will consider their own values and attitudes to the issues being studied and support their learning through the study of specific case studies. Students will also develop a variety of geographical skills, which will broaden and deepen existing knowledge.
Skills Developed
Students are required to develop and demonstrate a range of geographical skills, including cartographic, graphical, numerical and statistical skills, throughout their study of the course.
Impact
At St Anthony's we ensure that all students are exposed to rich learning experiences both in and out of the classroom that aims to:
Support subject specific literacy and numeracy for all our students to help them succeed in their studies and they aim to holistically develop the gifts and talents of each individual within a caring, compassionate, charitable and challenging Christian environment.
Develop the use of geographical language and vocabulary through oracy. Key words and glossary of key terms are encouraged to be used by all students in lessons.
Developing the student's ability to recall knowledge and apply this successfully in a variety of ways. This is regularly checked by adhering to the assessment policy and centrally recording key assessments so all teachers are aware of the achievements of their classes in the wider context of the year group and not just in isolation.
Promote collaboration and developing a general sense of enquiry, which encourages them to question and make suggestions. This is done through fieldwork and geographical enquiries set in KS3 and KS4.
Build on our student's natural curiosity and develop a geographical awareness of their surroundings but also what is in the wider world. The study of different continents and focusing on 'our island home' helps students to produce an image of the World they live in.
Make links between geography and other subjects. Opportunities for cross curricular links are highlighted in lessons and overlap is encouraged.
Create a culture of high aspirations which will allow our students a platform to learn about careers related to geography in the wider community with specialist skills and knowledge. This ensures that they are well prepared for the next steps of their education.  Options evening presentations/lessons focus on how useful geography is in the world of work.
Develop an interest in the past and an appreciation of human achievements and aspirations.
Instil and understand the values of our society and how we can protect our environment and world for years to come. This is achieved by ensuring students know the importance of COP26 and the world climate debate.
Students will leave the Academy with a deep and sustained understanding of contemporary Britain and the wider world. They will be able to communicate ideas with confidence and will be critical thinkers, able to reflect and consider multiple viewpoints. This will be reflected in national examination results and the progression shown by the individual learners.
Everyone in our community is aware of what it means to be an Antonian: to pursue excellence, to build community, to show concern for those who may be disadvantaged and particularly to support the education of women and girls. Since we were founded in 1904, we have definitely had an impact within this "city by the sea", and well beyond it.  We are confident that our distinctive ethos will continue to have a big impact as it is carried forward by future generations of Antonians.