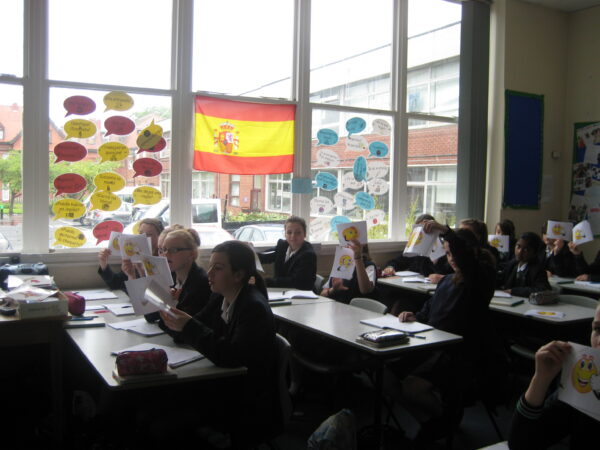 Spanish
If pupils select Spanish as their language, they will start their learning journey in Year 7 and continue all the way through to GCSE.
Learning a language is an essential skill, and equips pupils with the skills for working in an increasingly globalised economy and for travelling to a huge number of destinations. Throughout each year group we focus on correct grammar and language structure, and we encourage pupils to practise these new skills independently.
Did you know that Spanish is spoken by around 406 million people as a native language, and that Spanish is spoken across the Americas as well as in Europe?
Key Stage 3 Spanish begins in earnest in year 7 at St Anthony's, and the vast majority of pupils in the school go on to complete at least one modern foreign language at GCSE. The course content focuses on building pupils knowledge and experience in using the language, developing their correct use of grammar and range of language. Some of the themes in Key Stage 3 are the world of work and school, home and family life, and the media and health.
In Key Stage 4, the course content focuses on building pupils existing knowledge and experience, developing more complex correct use of grammar and range of language. The main themes throughout year ten are holidays, home and local area and the environment. Into year eleven, and pupils focus on learning how to communicate about school, college and future plans, and then are afforded the opportunity to revisit content from throughout their learning history at St Anthony's, in order to prepare fully for their examinations.
The Key Stage 5 course develops the students' listening and reading comprehension of authentic materials, fluency in both spoken and written work and competence in more advanced structures. Pupils are required to organise ideas, facts and opinions and to transfer meaning from one language to another. The content of the course is extremely varied and topics studied include the role and influence of the media, popular culture and healthy living at AS level, and the environment, multicultural society and contemporary cultural issues at A2 level. Discussion in Spanish will be an essential part of the course and students will be encouraged to express their personal response to material studied. In addition to the work studied in class, students will be required to develop their listening and reading skills through independent study undertaken in their own time.