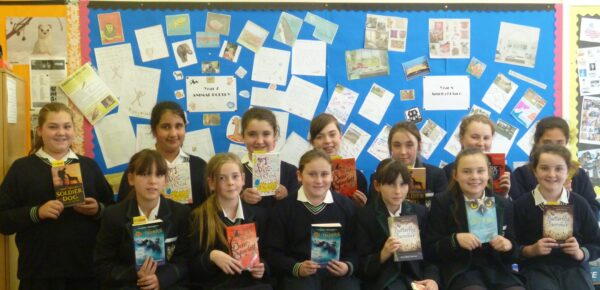 English
English is taught in all three key stages at St. Anthony's:
English – Key Stage 3
All students in Key Stage 3 will study the following areas in English:
A nineteenth century novel
A modern novel or short stories
Creative writing
Literary and modern poetry
A Shakespeare play
Non-fiction texts
Modern Drama
Spoken Language
All students will also have one Literacy lesson each week which will focus on spelling, punctuation and grammar skills.
English – Key Stage 4
All students in Years 10 and 11 will study GCSE English with the AQA exam board, and the course is assessed via controlled assessment and an examination. The controlled assessments are in five pieces, including responses to a Shakespeare play, a response to a novel, a response to cultural poetry and two creative writing pieces. The examination consists of two sections; reading and interpreting a non-fiction text and writing two non-fiction pieces.
Most students in Year 11 will study GCSE English Literature with the AQA exam board. The qualification is assess on both controlled assessment and examination. The controlled assessment concerns poetry, whilst the examinations are broken down into modern texts, Shakespeare and literary heritage.
All Key Stage 4 students will also be entered for English Functional Skills examinations at Level 1 and Level 2.
English – Key Stage 5
There are two A Level qualifications available at Key Stage 5: English Language and English Literature. Both qualifications are with the AQA exam board.
English Language
A Level English Language encourages students to develop their interest in English through learning about its structure and functions. It also allows students to develop their ability to express themselves with increasing competence and sophistication.
The AS course introduces students to an understanding of the ideas basic to the study of language, enabling them to apply these to an investigation of their own and others' use of speech and writing, for different purposes and audiences.
The A2 course builds on this foundation with the opportunity to investigate a chosen area of language, within the requirements of the syllabus, and to study Language Change and Children's Language acquisition.
English Literature
A Level English Literature encourages students to develop interest in, and enjoyment of, English Literature through reading widely, critically and independently across centuries, genre and gender, and through experience of an extensive range of views about texts and how to read them.
English Literature is an obvious choice at A Level for anyone intending to study for a degree in any Arts subject, but it is particularly compatible with subjects such as History, Politics, Sociology, Classical Civilisation and Theology, where essay writing skills and the marshalling of evidence are required. It is also a great asset to the student of Modern Languages, as the skills developed are those essential for the study of literature in any language.